Grout that has been cleaned with harsh cleaners can become blotchy and ugly.
Color sealing will make it look like new again.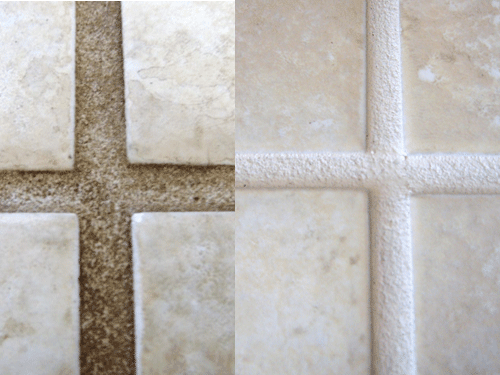 Sometimes high contrast grout colors make a room appear small especially with small tiles. Colorsealing with a neutral color can make the tile seem larger and eliminate the picture framing effect.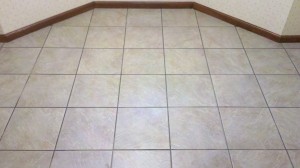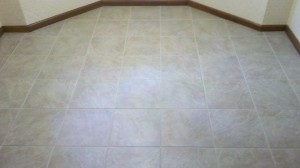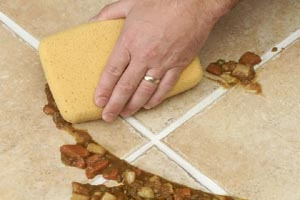 Color Seal FAQ's:
What are the main advantages of getting my grout color sealed?
While a normal clear sealer can help to protect grout lines from stains, a color seal application truly makes your grout lines waterproof and stain proof. Also, any dirt and spills on a color sealed floor can be cleaned up with ease, making a color sealed floor much easier to maintain.
What types of grout can you color seal?
We primarily color seal grout lines of interior and exterior ceramic and porcelain tile installations. However, we can also color seal grout lines of natural stone if the stone is sealed.
How is the colorsealer applied?
First, the floor is professionally cleaned, neutralized and fully dried. Then, the sealer is applied using professional equipment and allowed to soak into the grout. Finally, the excess sealer is removed from the surface and allowed to dry. The entire floor is cleaned and buffed using our floor machine to remove any haze.
Why is it necessary for a professional to apply sealer? Can't I do it myself?
Our professionals have the training, experience, tools and a wide variety of professional sealers. Professional application ensures complete protection for the entire surface of the floor. Proper color sealing is an art that is learned through training and practice. It is difficult to master in one attempt.
What do sealers protect against?
Our color sealer repels water-based and oil-based liquids, prevents stains caused by most food and beverages; and protects the surface from dirt and impurities. It also contains agents to reduce mildew and bacteria.
How long does color seal protection last?
If the tile and grout are maintained properly, the protection will last as long as your tile floor is in place.
Can you match any grout color?
Our color seal can match nearly every grout manufacturer's color palette and you can choose virtually any color you like.
What does a color seal floor look like?
The grout will look like new. Call us today. We will show you a sample of a tile floor that has been color sealed and you can see for yourself how beautiful and maintenance free a color sealed tile floor can be.
My grout is discolored and stained. Do I need to regrout to make my grout look new or can you just color seal it?
Our color seal process can be applied over your existing grout as long as it is mechanically sound. If your grout has been stained and discolored, it's not necessary to regrout to get that new look again. For a fraction of the cost of regrouting, we can apply color seal and make your grout look new again.
How soon after the colorseal has been applied can we walk on the tile floor?
The grout is ready for normal traffic about 30 minutes after the completed application, but can be walked on immediately.